In recent years, there has been an increased emphasis on the power of visualization and manifestation. Scientists have found visualizing an event can have almost the same level of effectiveness as actually physically performing the activity. There have also been studies showing how consistent positive affirmations can bring certain situations into your life. This philosophy is explained further by the Law of Attraction, created by William Walker Atkinson.
All of these theories unveil how you can use your mind to create powerful visualizations and affirmations to bring about the life of your dreams.
Along with these mental practices, vision boards are also a great way to visualize the life of your dreams and make it a reality. Vision boards help you define goals and aspirations and display them in a way for you to stay on track and motivated.
VISION BOARDS
A vision board is essentially a collage of pictures displaying all of your biggest goals and aspirations for personal and business growth. It is a concrete representation of your loftiest goals. Vision Boards allow you to clearly define your goals and exhibit them in a way you can review them every single day. They keep you motivated by reminding you of your end goals and allowing you to see them every day as you're making progress.
Below is my vision board. Everything on there might not make sense to others, but it all resonates with me and reminds me of what I want my life to look like before turning 30. As you can see, I have included big, scary goals, such as making the Forbes 30 Under 30 List and being the Keynote Speaker at a Ted Talk.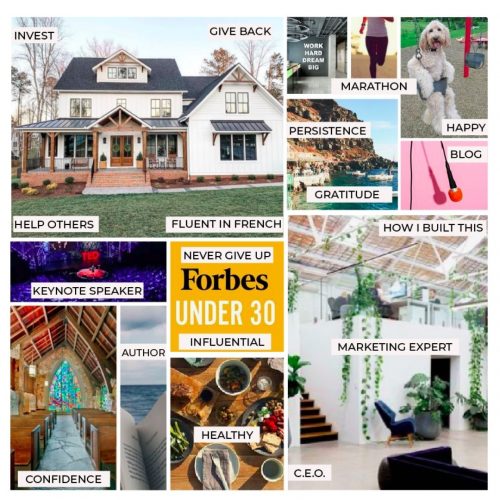 You can create both a physical or digital vision board. However you decide to make it, you need to display your vision board in a place where you will see it every day. Consistently being exposed to your goals visually will keep you motivated and ensure you keep making progress toward them.
I have both a physical and digital copy of my vision board. I keep one as my phone background and another on the back of my bedroom door. Every night before tackling my day, I look at my vision board and visualize my day as a productive one toward the goals pictured. I re-evaluate my vision board right before bed to hold myself accountable and determine if I made progress toward my goals.
Developing a routine like this can help you make your vision board goals a reality.
HOW TO MAKE A VISION BOARD
1. Set Goals
The first step to creating a vision board is clearly defining your goals. Set a period for when you want your vision board to become a reality, and then begin listing all of your biggest goals and aspirations to accomplish in that time. The bigger your goals, the better. As Bob Proctor once said, "Set a goal to achieve something that is so big, so exhilarating, that it excites you and scares you at the same time." The scarier your vision board is, the better. If it scares you, it means you will be pushing yourself to your limits and living your life to its fullest. Heck Yes!
When setting goals, try to include some from every area of your life. Below are a few categories to consider when coming up with goals for your vision board.
GOAL-SETTING AREAS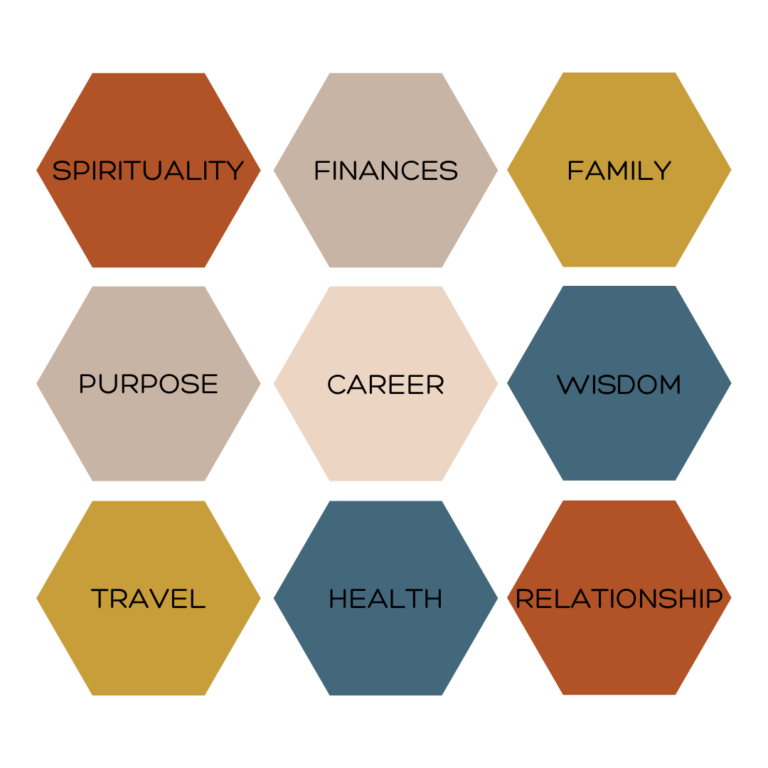 2. Power Words/Statements
The next step is to come up with a list of "power words." Your power words are words you want to focus on and improve on in the period aforementioned. They need to be words enticing you to action and encouraging you to grow and stay focused. Some powerful vision board words are:
3. Gather Pictures/Graphics:
Now that you have a clear idea of what you want your life to look like, you will need to find visual representations of your vision board goals. You can do this by looking in magazines, books, Pinterest, Google, or the world around you. Let your creative juices flow, and gather inspiration from wherever it finds you. Start a collection of these images and graphics to use on your vision board.
4. Make Your Board:
Now for the fun part! If you want to make a physical board with magazine clippings, you can use a poster board to create a collage with all of your images and words. If you, instead, want to make a digital version, I recommend using Canva to bring your ideas together. (Canva is a free, easy-to-use graphic design tool for creatives.) Spend some time on this and enjoy the process. You want it to look good, so you won't mind looking at it multiple times a day.
Pro Tip: Even if you make a digital version of your vision board, I recommend printing it out to have a physical copy on display in a place you will see it often. The more the merrier!
5. Put it Everywhere:
Ohhh yeahhhh! Time to make those dreams a reality! Once you have created your vision board, you will need to use it. Hang your board in a prominent spot where you will see it every day. It is also a good idea to use your vision board as a background on your phone or computer screen. I even have a friend who taped hers on her car dashboard, so she can see it every day when she gets in her car.
6. Use it:
You have a vision board, and you have put it where you will see it every day. All that is left is making sure you use it. As mentioned before, I have gotten into a routine where I look at my vision board every morning and night. This routine helps me to evaluate my day and the progress made toward my goals. I encourage you to develop a similar routine.
You will quickly notice progress toward your goals and your vision board becoming a reality in your life. Make sure to take time celebrating your success along the way. You have worked hard to get to where you are now, and you deserve every bit of it.
Keep on making waves!
Until next time…
Upward and Onward.
Bailey Thibodeaux
Founder of Honeywave Creative